I'm in so much pain.
No, really, my arm is seriously sore from the flu shot this afternoon.
But the real reason for my pain and sorrow - I had to frog 16 rows of my Swallowtail shawl. I picked it up last night for the first time in nearly a month, and couldn't get through the row I should have been on. Stitches were missing in some places, extras had appeared in others. And when I went to knit past a nupp in the previous row I saw - sit down - loose loops. You know, where I had completely failed to include them in the p5tog on the previous row. Just dangling in the wind.
I really wasn't keen on tinking back on 200+ stitches per row, so I frogged to the lifeline (thank you lifeline!). Sigh. I'm now further behind than I was a month ago when I put it down to work on Audrey's sweater.
Which is DONE!
Here it is washed and blocked: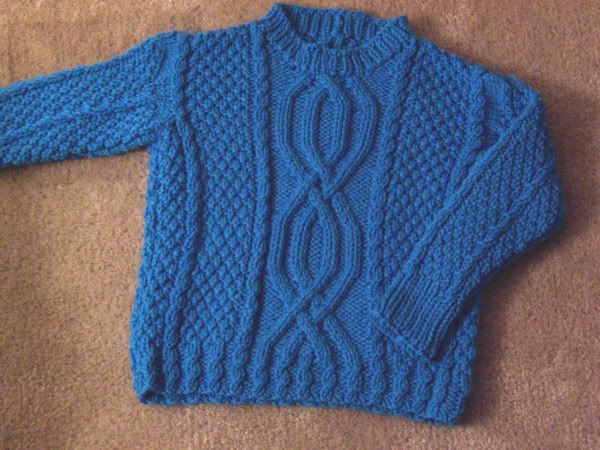 And modeled: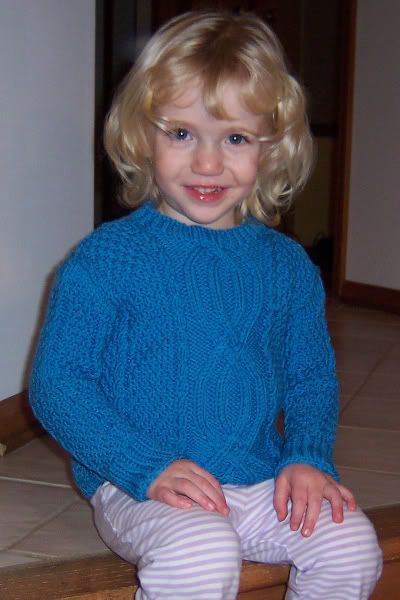 It fits her perfectly and the arms are long enough to actually cover her wrists (a problem with store-bought sweaters). Maybe could have been another inch or two longer in the body to accomodate a little more growth. But, it was such a fast knit and so cheap ($13!), I can just make her a new one when she outgrows it.
The Details:
Audrey's Sweater
Design: My own
Yarn: KnitPicks Swish Superwash, Capri, just under 4 skeins incl. swatches
Needles: US8 and 6 (ribbing)
Notes and Lessons Learned: Swish Superwash grew when I washed it (but dried flat). Others have reported shrinkage in the dryer. Though shalt swatch with this yarn. Other: neckline of 1/3 body stitches fits over her head easily, used EZ stretchy sewn bindoff on neck. Armholes a little deeper next time?