I have to admit, this was my first thought as I glanced down into the watering can and saw a half-dozen Polly Pockets dolls, some floating with their heads above water, some suspended halfway deep in the water. And for a second, I felt a twinge of fear as I reached my hand into the water to remove them before watering the new perennials.
I'm not sure which part of the Polly Pockets Sports Resort the watering can represented. I'll have to quiz the kidlet tomorrow. Considering she's not old enough yet to have read or seen any of the Harry Potter stories, I'm a little curious.
Last week I went to the Great Lakes Fiber Festival with (most of) the Cleveland Knits West knitting group. We carpooled down to Wooster, OH in a few cars, meeting up at
Calla Lily
in downtown Wooster before heading over to the fairgrounds. Really nice store! I got a few balls of sock yarn and enough cotton yarn to make a summer sweater for Audrey.
Next popped over to the Hungarian Bakery around the corner (Tulipan Hungarian Pastry, no web page). ZOMG YUMMY! I had a piece of the apricot tea cake. Good thing for my wasteline Wooster is a good 75 minute drive.
Of course, the real reason for this trip - fiber!!!
I was pretty well restrained - only bought 8 ounces of white roving, 1/2 of mawata (silk hankies), 4 oz of polwarth from Briar Rose, and a bunch of goodies for Audrey (finger puppets and a kid-sized mug for hot cocoa.
A few of my recent fiber purchases to drool on... (not all from last weekend!)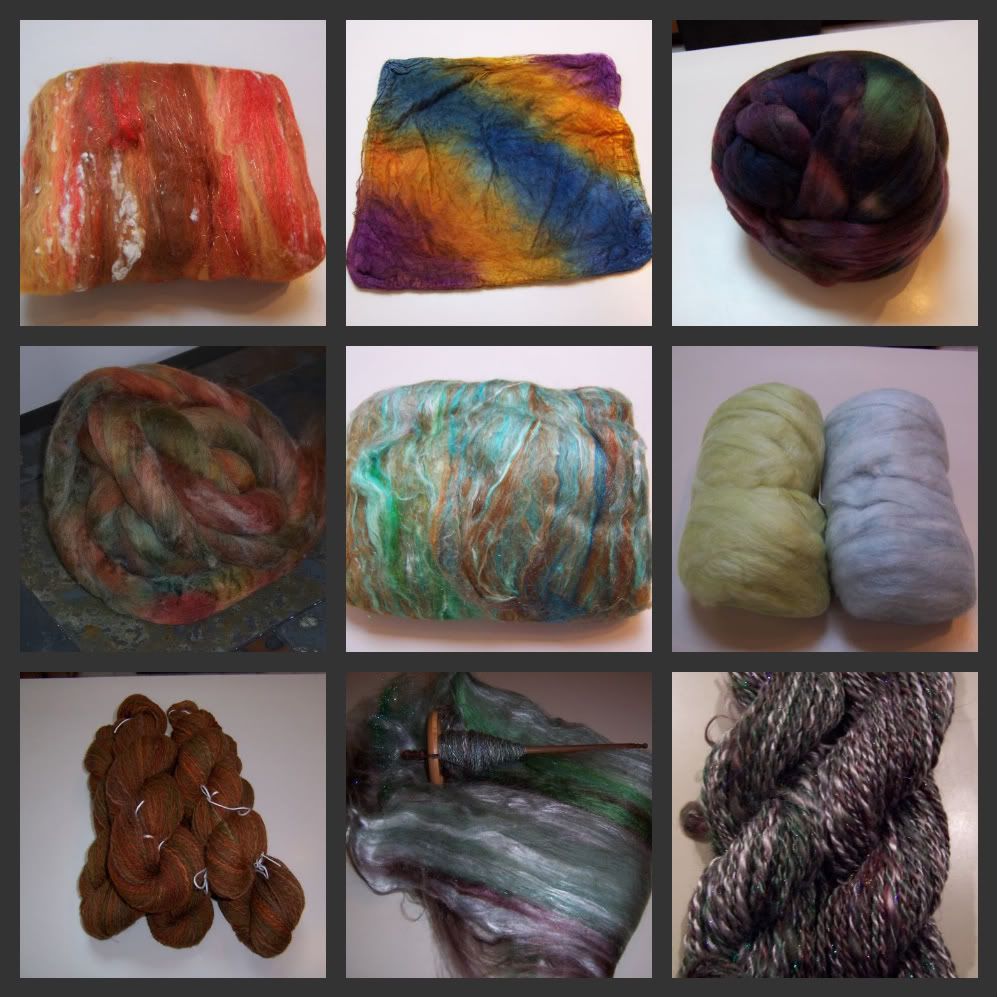 From left to right, top to bottom:
1. Butterfly Girl Designs art batt
2. Silk Hankies
3. Briar Rose polwarth
4. Briar Rose polwarth
5. Butterfly Girl Designs art batt
6. merino
7. (4), after spinning.
8. Butterfly Girl Designs art batt
9. (8), after spinning
Happy fiber dreams!