Iz Zen...Iz Superhydrophobic...Iz a hat
Well, it's probably not superhydrophobic. Being lace and all. And wool.
I bring you...
The Lotus Hat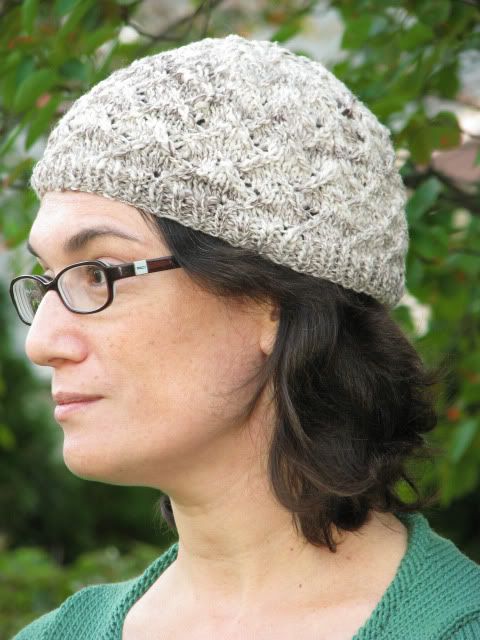 Pattern:
Lotus Hat
Designer: Uptown Purl
Yarn: my handspun, worsted weight/worsted style, natural color merino
Fiber purchased at Great Lakes Fiber Festival, 2009
Needles: US8
I overheard Mike discussing my spinning with his sister - "she spins a lot, but I don't think she ever uses the yarn". Um, maybe I should do something about that.

On the needles now, the Ashland Bay merino/silk fingering/sport weight 2-ply for a Bird's Nest Smoke Ring. It's in time out right now, having just discovered that I repeated rows 23 and 24 twice in a row. And this after frogging about 15 rows at knitting group last week.

Mike's in Singapore (again) and I'm taking advantage of his absence to spin up some naturally dark brown BFL into (hopefully) a fingering weight 2-ply to make him a hat for Christmas. You know, I haven't knit him anything since the 3 lb. sweater in grad school? I'm just itching to frog that sucker and make sweaters for the whole family from the yarn. Of course, then we would be immediately transferred to northern Ontario and I would regret frogging his very warmest sweater.

The house is in chaos right now - I'm having everything but the bedrooms and bathrooms painted. My first time hiring a painter for an inside job! Boy, they work a lot faster than I do. Can't wait to get it all put back together and see what it looks like with furniture and pictures on the walls. Right now - chaos surrounding a Nomadic Desert, with a side helping of Latte.

Must go make a cup of tea.
Ta!