February goes out like a lion
...and it looks like March will be coming in like a lion as well. More snow! Lots and lots of it. Good for the guy who plows our driveway, not so good for my desire to see something green around here (the stuff growing in the abandoned yoghurt container doesn't count).
It's been a busy month here around Casa Castro, what with the Olympics and all. Hard to believe it's been a month since I posted last. Busy month - three projects completed! Six if you count the presentation and two publications I finished at work.
First up, finished in time for the Super Bowl - the Scoop Sweater.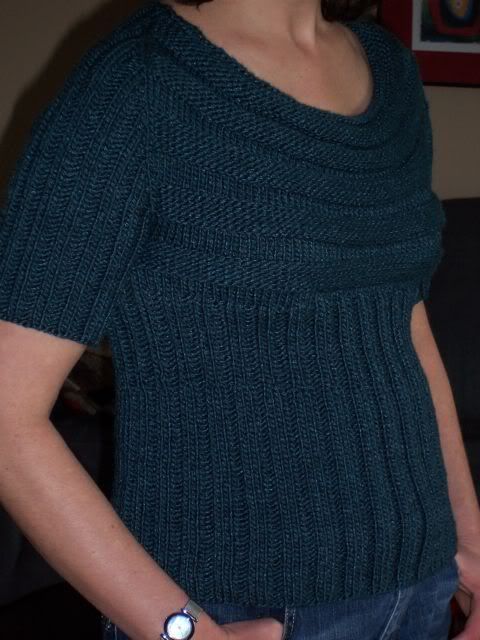 Pattern: Scoop Pullover
Designer: Cathy Carron
Yarn: Reynolds Rapture
Needles: US 9
Began: 1/15/2010, Finished: 1/29/2010 (knitting) and 2/6/2010 (weaving in ends)

I LOVE this yarn, I wish it wasn't discontinued! It just glows.
Next, a quick cardigan for Audrey. I had a deadline for this one - I had stranded socks planned for the Ravelympics and wanted this off the needles before the opening ceremonies. Audrey picked out the pattern, she saw it in the Winter Patternworks catalog. A pretty basic cardigan with striped sleeves and flowers embroidered on the front. The flowerpot is a pocket of course...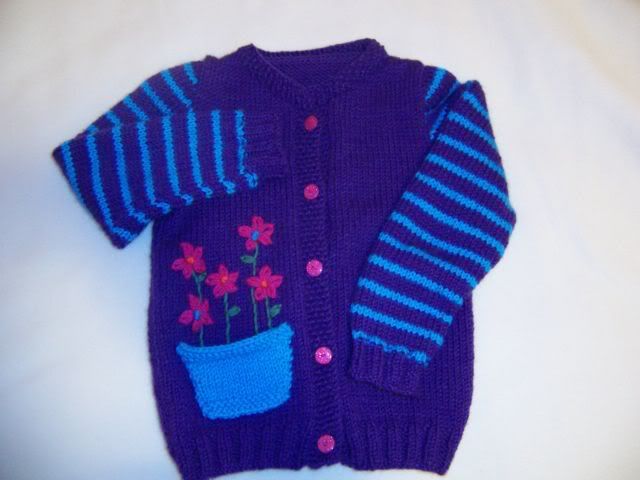 Pattern: A pocket full of posies
Designer: unknown, I unvented it based on the photo
Yarn: Plymouth Encore
Needles: US 8
Began: 1/31/2010, Finished:2/11/2010

And finally - my Olympic challenge: colorwork. After my Northern Lights mitten fail, I've tried a couple of minor stranded pieces in worsted and bulky weight yarn, and they've come out fine. I still want to tackle fingering weight though, in hopes of someday making a fantastic Fair Isle sweater. So, socks. I know I can finish a pair of socks in two weeks. The challenge will be to make two socks (of the same size) in stranding technique.
There's a few minor errors in there, and some pretty serious laddering going on along the foot, so shall we say Bronze?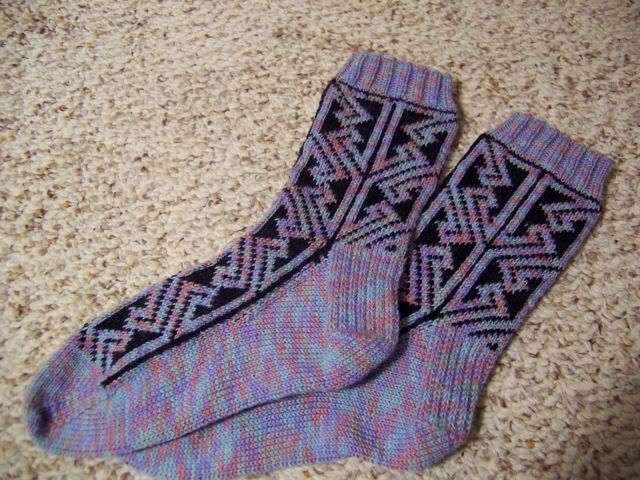 Designer: color pattern is Alice Starmore's Alba
Pattern: mine, combining the Alba pattern with the construction from
Seriously Southwestern Socks
.
Yarn: Plymouth Happy Feet (variegated) and ShibuiKnits Sock (black)
Needles: US 1 and US 2
Began: 2/12/2010, Finished 2/24/2010.
Phew! What a month. Next up is a little spinning I think. Then a vest for March.