The Hat Came Back
Everybody sing now!
The Hat came back,
we thought he was a goner
Oh, the hat came back, the very next day*
The hat came back, we thought he was a goner
He just couldn't stay away, away, away, away, awayyyyy.
* in some space time continuum where 1 day = about 6 weeks.
Scared the bejeepers out of Mike at Giant Eagle today. I was signing Audrey into the Eagle's Nest and I screamed "Oh!!! The hat!" and pointed at a box underneath the kids coat rack. For there was Audrey's hat. That I have turned the house upside down for, looked in (almost) every lost and found box in Westlake, and nearly given up for good. And I was sad about losing the hat. It's this one - double knit, with snowflakes.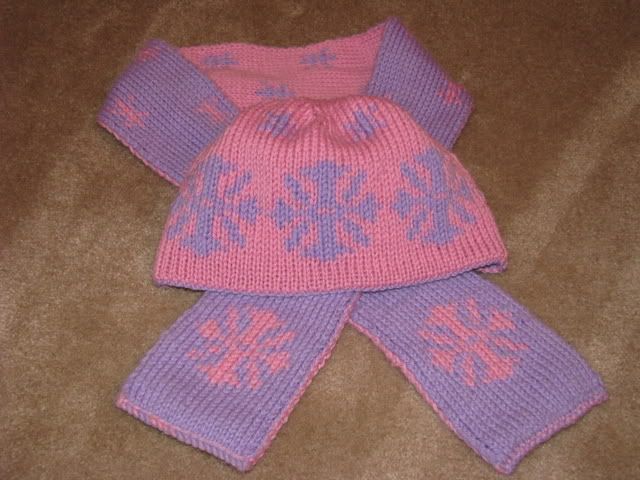 It, and the matching scarf, are the first and last double-knit project I've ever made. I was planning on replacing it next winter anyways, because it won't match her new coat (bought on sale at Christmas in the next size up). But it's one of those knit projects that is actually in really good shape and worth saving for the grandchildren. At least I think so.
And in recent knitting news - a big kudos to
Loop
, for mailing me a single skein of Shelter on Thursday, and the USPS, for getting me Priority Mail from Philly to Cleveland in the very next day. I bought two skeins of Shelter in November for a pair of
Bird in Hand
mittens. The pattern calls for 200 yds each of the background and pattern color; Shelter comes at 140 yds/skein. I optimistically thought 140 yds of each color would be enough for a pair of mittens. I was wrong. At only line 67/96 on mitten 1, I am halfway done with the background skein of yarn. So, unless I wanted one blue/white and one white/blue mitten, I need another skein of blue. Different dye lots, but looks close enough that I don't think I'll need to alternate rows.
Of course, today the temps were in the mid 40's, and I don't think I'm going to need windproof wool mittens by the time I finish these, but I swear it was down below 10F when I cast on!
Happy Valentines' Day all - I'm off to roll around in chocolate. Audrey got me a bag of Ghiardelli squares, and Mike got chocolate covered grapes and a box of filled chocolates at Malley's. I got Mike a box of truffles from
Lilly's in Tremont
. I actually got there, and home again, in the same day, and without calling for help! It should have been a 10 minute detour on my way home from work. Ideally, hop off 1-90, go around the block, buy the chocolates and hop back on the highway. In reality, I misread the map, misread their directions, drove back and forth across the Flats on that bridge with the really cool carved statues on the ends, turned around by the stadium, back over the Flats on I-90, back off again, took a bumpy tour of most of Tremont, got the chocolates, and ended up going back to Westlake via I-71 S to I-480 W, and back up through N. Olmsted. Total travel time 1:15.
Mike suggested I get a GPS. But then I wouldn't get to see new parts of the city - what's the fun in that? I do take his GPS when I'm driving somewhere completely new. Like Detroit last month. I don't want to drive around Detroit (or any other big city) lost. But on the west side of Cleveland, you are eventually going to run into a highway, Detroit or Lorain roads, or Lake Erie and you can feel your way home from there. Also helps that in the city itself, they use numbered roads, numbers increasing as you move away from downtown. That's my story and I'm sticking to it.
Later!