Turnip
Turnip Turnip Turnip. Keep saying it - it really starts to sound funny.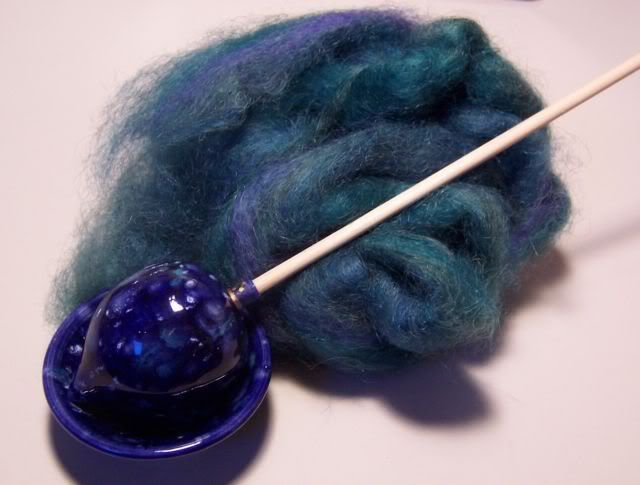 Here's my new spindle! It's a Turnip spindle by Ann Grout. I got if from
Steam Valley Farm
. The fiber is a wool/mohair blend from Steam Valley in Tide Pool. Very soft and subtle shades of blue and green.
I finished up the Optima by Chameleon Colorworks. Optima is a mechanically stretched merino fiber that has almost no crimp left in it - it feels like cashmere, and the staple is much longer than unstretched merino, so it drafts like a much longer stapled fiber. Very limp and drapy, it is destined to become a shawl. I got 540+ yds out of 4 ounces, it's a light fingering weight yarn.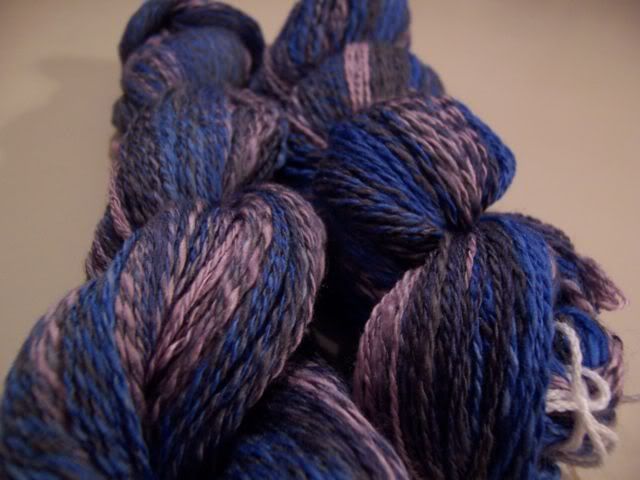 The mystery romney fiber from Sheepish Creations is done too - 234 yds (light worsted) from 3 3/8 ounces. It came in a 4 oz. braid, but I used 1/2 ounce for experimenting. While initially I was really fighting with this fiber to get it to draft smoothly, by the end things were moving much more smoothly.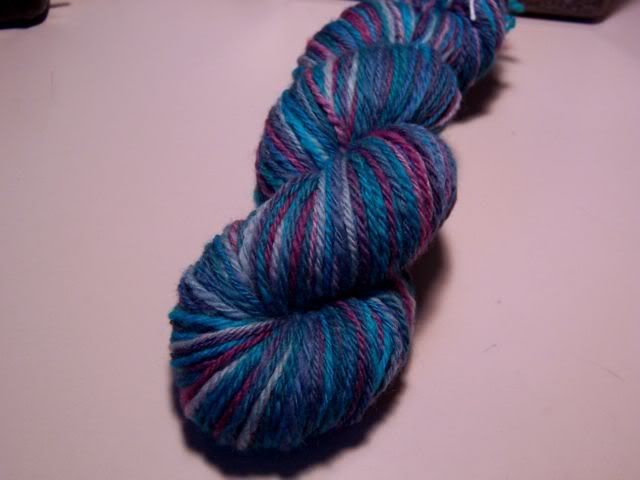 Just taking a little spring break this week from knitting and enjoying the nice weather! Soon I'll have to start working on teachers' gifts for June - I can't believe my little girl is finishing kindergarten! Last weekend she passed the swimming test to use the diving board at the rec center. She swam one length of the lap pool unassisted. I'm so proud of her - amazed too - since she was really struggling to cover half that distance just last week. The key was telling her to swim slower in order to go faster. She was wasting so much energy with her arms going like windmills and feet making big splashes and just not going anywhere. When she slowed her strokes down, her arms had enough contact with the water to really pull through it.
News of the weird.
My alarm clock went off 34 minutes late today. Why???