Merry Christmas
Three steps to an easy handmade stocking that is sure to become a family heirloom
1) Purchase felt appliqué Christmas stocking kit at your local craft store. I am partial to snowmen. Be sure to check package for extra materials needed (tissue paper for tracing and quilt batting/stuffing).
2) Assemble kit as per instructions*
3) Hang on fireplace mantel. That's it! See how easy it is?

Here's the stocking I made for Audrey this year!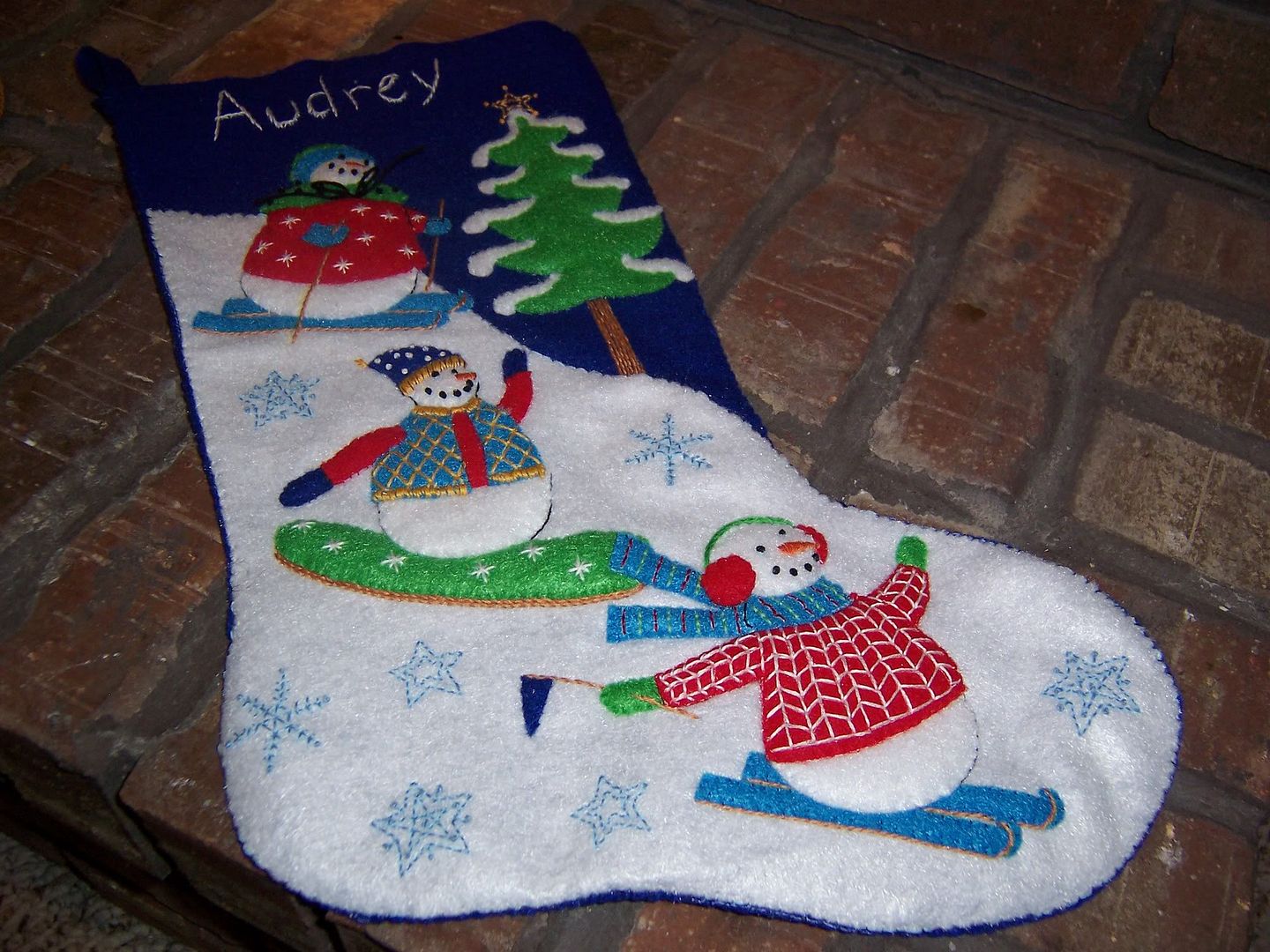 My parents and sister came to Cleveland this year for Christmas. We had a fresh cut tree (Wilcox Farms in Lagrange, OH – I recommend it for a great "cut your own" experience), way too much food, and enough presents to open our own toy store.
Best new recipe (for me. I guess it's been hot in the food-blog world since 2006): No-knead, Dutch Oven crusty bread. OMG this is the best, easiest bread recipe EVER! I've been able to make decent white and French breads in the past, but they never quite hit the spot. They're good enough to say – this is homemade and better than the factory made presliced bread at the supermarket. But never as good as the loaves from a real bakery or bread store. Not the type you want to sit down with a stick of butter and stuff yourself. This bread though, was that good. The recipe includes a link to a YouTube video of a guy in a real bakery testing it. Note that in the recipe, she sets her oven (which I assume is a standard household range) to 475°F, while in the video, the baker says 500 - 515°F. I had trouble getting my oven to stabilize at a high temperature and the independent thermometer on the rack read everything from 450 - 510°F during the first 30 minutes. The top was already starting to color up when I took the lid off, and I left it in only an additional 10 minutes. The color was great and the loaf had a good hollow sound on the bottom. Although the crust seemed rock-hard right after cooking, I left it on a wire rack until it was fully cooled and the crust softened quite a bit. When we ate it at dinner, it was exactly the chewy, crunchy crust you get at a good bakery or restaurant. I'll be making it again for New Year's Eve for sure!
Christmas gifts were well received – DH liked the hat I made him (although I think he thinks it should be a tiny bit smaller) and was very impressed with the handspun yarn.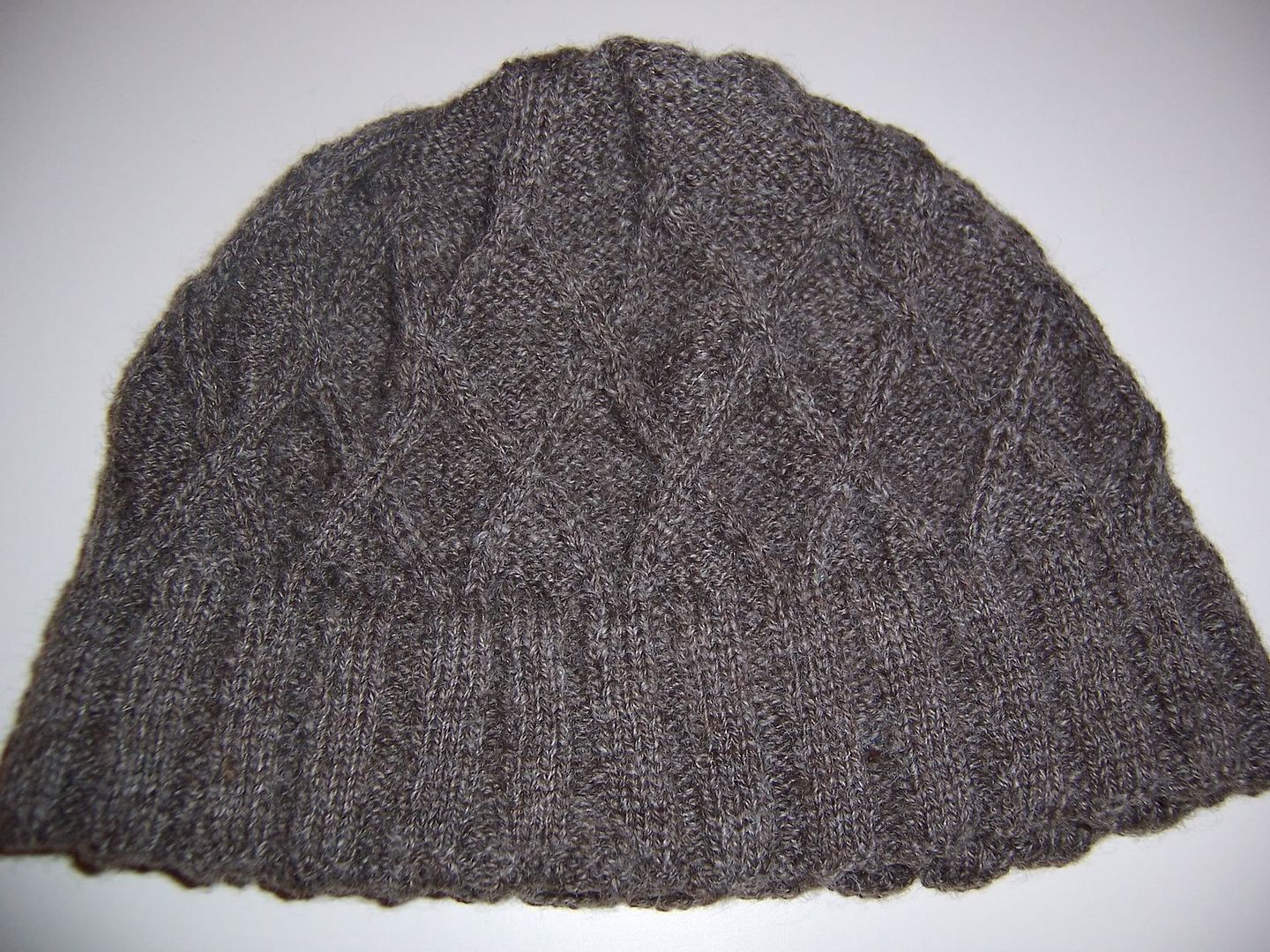 Pattern: Ranger Hat
Designer: Anni Laine
Yarn: handspun black BFL fiber, purchased from Sheepish Creations (Etsy)
Needles: US2
I finished it on December 23rd, turning under the hem at lunch at work. Then washed and blocked when I got home, and tried to accelerate drying by laying it next to the heat vent overnight. I stacked the drying racks in front of the vent so he wouldn't see it. This is the first project I've ever made from fiber to finish, intentionally spinning the yarn to suit the planned project. I'm pretty happy with it, and I've got a couple hundred yards of extra yarn left over.
And guess what Audrey gave me: sparkly, self patterning green sock yarn. Christmas in a skein!

Do I have a great kid or what?
*Step 2 – Follow steps 1 – 46 on the 10 page instruction sheet included in the kit. Total time to completion: approximately 15 – 20 hours spread over 10 evenings.