Lace Zen
I have achieved Lace Zen.

That moment when suddenly you aren't just reading your lace, you

know

your lace.

You can put the chart away, remove all those annoying stitch markers and just knit.

Somewhere in the third pattern repeat of the Trellis Scarf I reached this state last night. I understood the pattern. And not that I have anything against stitch markers, but in this pattern the repeating unit shifts a couple of times over the 16 rows, so you are constantly moving the markers. Which really slows things down and breaks my concentration.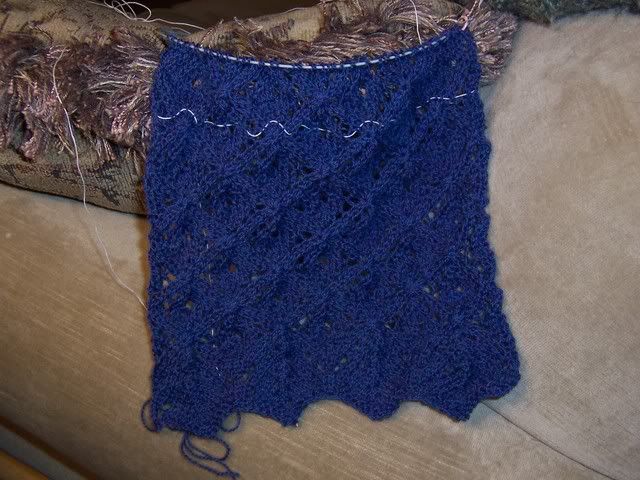 I'm making it in KnitPicks Shadow in the Jewel colorway. It's really not that intense blue, more sapphire blue with flecks of amethyst throughout. And of course it looks a little like unblocked spaghetti.


I haven't removed the lifeline though. I'm happy, but not crazy. That's still coming along for the ride, advancing every pattern repeat in Row 2. Row 1 has those 7-into-5 jobs (K7tog leave on needle, m1, K7tog leave on needle, m1, K7tog slip (5) new stitches from needle. A sight easier than the P7tog in the Swallowtail Shawl, but dang! This is not lunchroom knitting.

I haven't quite committed to only knitting from Stash in 2008, but I am making a serious effort to diminish the beast. I have enough lace yarn for 5 lace scarves, but not enough of any one color for a shawl. Enough fingering weight for about 6 pairs of socks. Those two categories alone could fill up 2008. I doubt I'll stick to only lace and socks for the whole year, but I will refrain from buying any more lace or sock yarn until these are used up. And I'm not one to buy random bags of worsted unless I have a pattern in mind first.

The Booga Bag is (essentially) finished – I think I want to add some stiff interfacing to the bottom to keep it from bulging when I put things in it. Are felted bags supposed to be so floppy? For some reason I thought it would be very stiff.

And guess who wants a felted purse of her own now too? You guessed it – Audrey! Everything Mommy has, she wants one too. In red. I think I have some red Lamb's Pride in Stash (I hope I hope) so I won't need to buy any more. Why she wants another purse (she has at least 3 – red corduroy, pink sparkly, and purple vinyl) I have no idea. It's not like she carries a wallet. She does have a cell phone though. Three actually (all toys). You can never be too prepared! I think a scaled-down Booga Bag shouldn't take more than an evening. Or maybe I'll just make a rectangle, fold it in half, sew the sides and add a handle. Very easy.

DH will be home tomorrow (I hope). Looking forward to a quiet weekend and a playdate on Saturday.

Bye!