Winding down
It's nearly over. Summer, that is. Although Labor Day isn't for another two weeks, school starts around here on Wednesday this week. For kids, its the end of summer days.
As if to facilitate the transition, the nights are getting cooler, the Fall rains are slowly creeping in, and I saw a few leaves on the sidewalk on my run yesterday.
All this makes me feel like I need to get back to work myself - starting with the "what I did on my summer vacation" blog post! Cause you all missed me, right? Right? (Cups hand to ear, listens to chirping cricket noises).
Not that I've uploaded any of my August photos yet, so let's start with July, shall we?
July for me is the Tour de Fleece - an internation spinning event coinciding with the Tour de France. They spin their pedals, we spin our fiber! Two days off between July 3 and July 25, just like the riders. Goals are personal though, we don't all have to spin 4 miles of laceweight or anything! My goal - learn to spin low-twist singles, spin entirely from stash, and use up at least 8 oz of fiber.
Heading out to Vermont for a combination camping/hotel/Smores/stuffing face on amazing restaurant food in Burlington week, I brought along this stunning Wensleydale/Teeswater blend dyed by Fleece Artist. I bought this in Toronto in 2007, I think? A truly longwool, the staple was in the 6 - 10 inch range. Despite the very long staple, it was very slippery, and it was quite a challenge to keep the spindle from falling to the ground. In the end though, 393 yds of singles were mine! I washed it quite vigorously to slightly felt the fibers together and give it a little internal structure.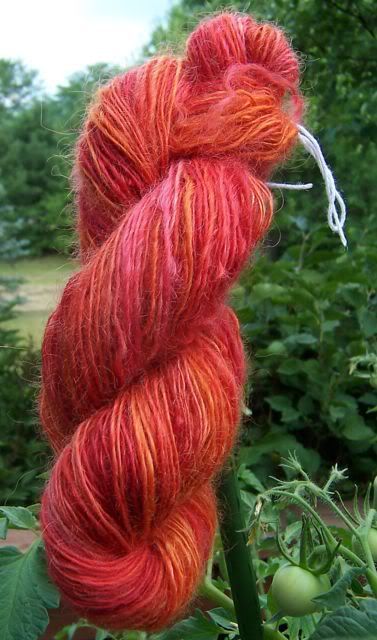 Before leaving Vermont, I made Mike take a little detour to a LYS outside of Burlington (okay, I was driving, but without his GPS, I'd likely not have found it myself).
NorthEast Fiber Arts
- if you are in the area, you MUST go here! Probably the most spinning fiber (and largest variety) I've seen in one place, not counting festivals. Knitting yarns abounded, floor to ceiling. So much for stash busting, here's the fiber portion of my visit: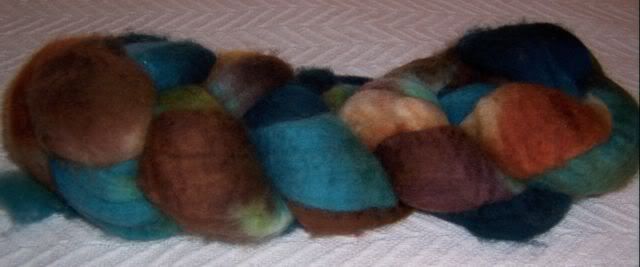 Top photo is Frabjous Fibers Merino in the Stained Glass colorway, bottom is Frabjous Fibers BFL in Redwood Forest.
Returning home, I picked out another 4 oz braid from stash - Pagewood Farm Hand-dyed BFL in colorway Harvest, purchased around Easter on our trip to Phoenix. DH drove SIL and I out to
Tempe Yarn and Fiber
. Another side-trip worthy destination - I also bought an ounce of baby camel down here.
I spun up the first ounce as a low-twist single, then (wisely) decided to stop here and finish it. I'm very glad I did, the resulting yarn was just too fuzzy and indistinct for my taste. The fiber was so soft and glowing, I really wanted a smooth smooshy yarn for my efforts. The remaining three ounces I spun "normal" twist, then made a true 3-ply, for a total of 150 yds (161 of the low twist stuff). Here's the 3-ply, I don't have a good photo of the singles.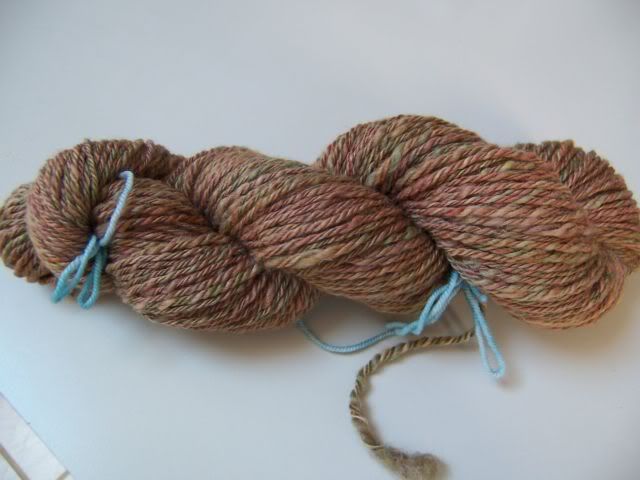 But wait, there's more! I can't spin in the car, and round trip from Ohio to Vermont is about 22 hours (we stopped overnight(s) at my parents in Rochester both directions). Socks!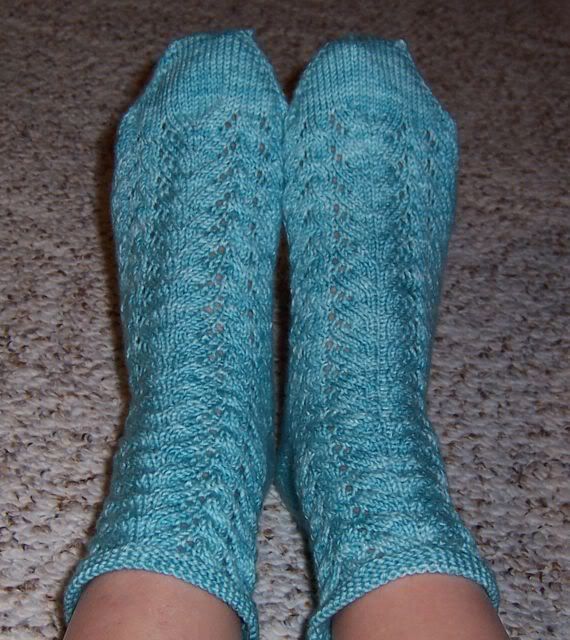 These are the
Twinkleberry
socks from Beth LaPensee. I worked them toe-up, but otherwise, no mods. The yarn is Collinette Jitterbug in Elephant's Daydream.
Tired yet? I am. I'll buckle down and work up those August photos soon so you can see all my August stash busting!